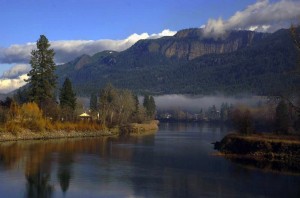 Ever since I participated as a UBC student in an ethnographic field school in 1994, I've wanted to be involved in such a project again. I always hoped that my involvement would be as an instructor. Now, with the encouragement of a First Nation in the BC interior and the strong support of my college, I am in the planning stages of a field school which will take students to live on a reserve and conduct research in collaboration with community members in the summer of 2011. I want to use this blog to keep track of the steps involved in setting up the field school. Hopefully, it will serve as a useful diary for me and, perhaps, a suggestion of steps for others interested in similar projects.
I will reveal the name of the First Nation once we are further into this process. It is, however, a community I have worked with as a consulting anthropologist since 2008. Their resource manager had the idea to bring students to the community to conduct small research projects in aid of the community's own research agendas. Despite being thrilled to be asked, I was concerned about the lack of experience my first and second year students have in primary research, research methods and ethics. I didn't jump at the chance to set up a field school as a result.
Over the following year or so I spoke with colleagues at Douglas and elsewhere who encouraged me to reconsider. The opportunity afforded me, my students, and the college seemed too good to pass up. Last fall, I met again with the resource manager at the First Nation and she remained enthusiastic. As a result, I committed formally to the planning of the Douglas College Anthropological Field School. I also met with colleagues who have run archaeological field schools to gain some insights into the pitfalls of running a program like this.
Since then, several steps towards the establishment of the field school have been completed. They include:
drafting a discussion paper in which the rationale and the format of the field school are presented
sharing the discussion paper with college administrators
writing new course curriculum guidelines to establish the field school course
applying for funding from a college fund for release from one teaching section
preparing a list of summer tasks, including drafting student application procedures, reading ethnographic and methods literature, completing an ethics approval process, and writing a student handbook.
This week, I am traveling to the interior to meet with members of the host community. We will discuss field school topics.
In future posts, I will details the structure of the field school and discuss the application process.
Sphere: Related Content